A few weeks ago InfoReady administrators got a

preview of the new Data Grid during the What's New webinar

and a blog post. Their impressions of the updates were overwhelmingly positive and were seen as a leap forward in how administrators could manage competitions. These much anticipated Data Grid updates are available starting November 1, 2021 [cue fanfare].
T
he updates will be immediately available in the system when you log in to InfoReady, meaning you will not need to do anything to activate them. On the morning of the release, administrators will be notified that the updates have been deployed to their InfoReady site via four methods:
In-system notification for the

release notes

on the homepage of the InfoReady platform
Email announcement to the administrator list we send monthly newsletters to
Message to the InfoReady listserv [subscribe here]
If you were unable to attend the webinar, then you are in for unexpected and good news. The new Data Grid includes several significant updates and additional functionality, while also providing a familiar user experience that administrators are already accustomed to. The updates provide both a streamlined design for easier navigation and many new features to empower admins to manage a competition more quickly and easily.
The highlights cover both small and big changes, from the competition 'Edit' button moving to the menu button on the right for easier access, to being able to customize and save the Data Grid view with all the information you need to manage a competition. There are more batch actions and a new robust method for exporting submitted materials as PDFs. Administrators will now even be able to provide view-only access to the Data Grid to any user of their choice, such as senior leaders who need to view information about a competition but don't need admin access. The

full release notes

provide in depth details.
Aside from releasing all of this new "good stuff" and notifying admins when it is available, the InfoReady team has created and updated dozens of articles in the support portal and updated the administrator guides to help admins with the new features and design. Please see the section below for a table summarizing the "before and after" of the changes. The interactive version of the table can be found here with links to detailed articles in the support portal.
Administrator View and Terminology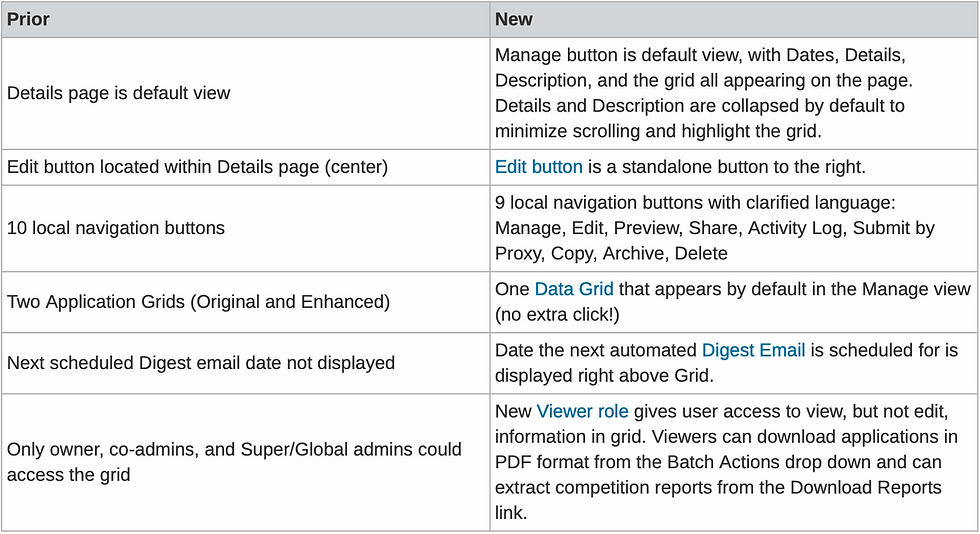 Navigating the Grid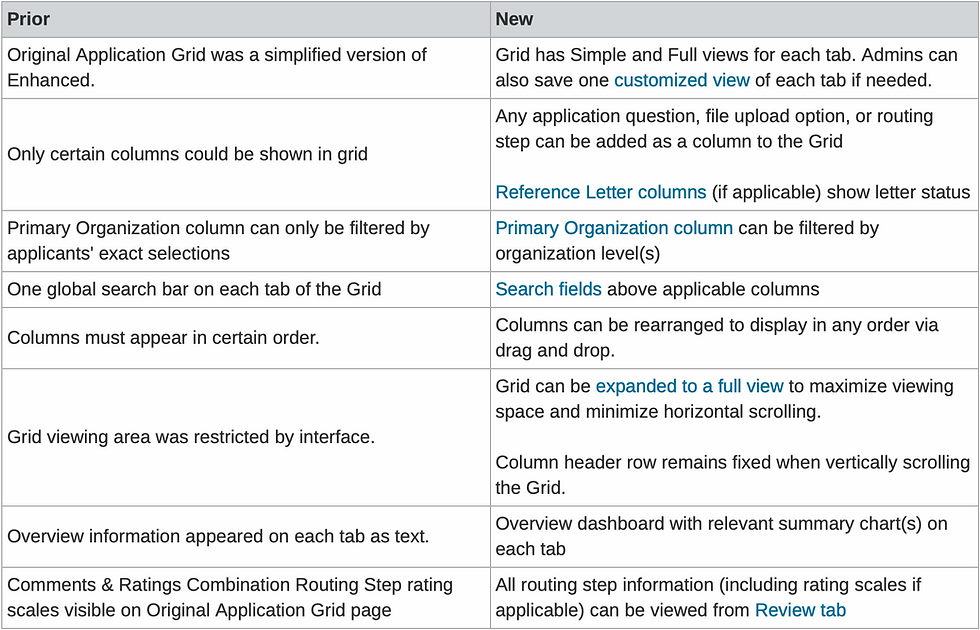 Batch Actions