For the 4th Time, InfoReady Makes the Inc. 5000, Ranking Among the Fastest-Growing Private Companies
ANN ARBOR, MICH. August 15, 2023 – Inc. announced that InfoReady has secured #4365 on the renowned 2023
Inc. 5000 list. This annual compilation celebrates the remarkable accomplishments of the fastest-growing private enterprises across America. The list offers a data-driven glimpse into the triumphs of the economy's most vibrant sector—its independent and enterprising businesses. Notable household names such as Facebook, Chobani, Under Armour, Microsoft, and Patagonia have all experienced their initial national recognition through their inclusion as honorees on the esteemed Inc. 5000 roster.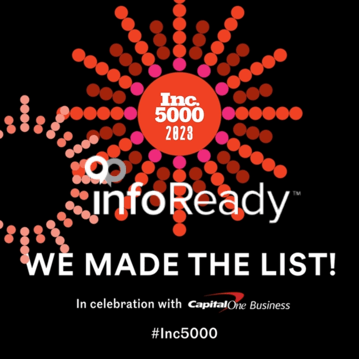 "Ranking among the 5000 fastest growing small and medium-sized companies out of over 6 million in the nation speaks volumes about the extraordinary work the InfoReady team is doing together. We look forward to the years ahead," said Bhushan Kulkarni, the founder, chairman, and CEO of InfoReady.
The Inc. 5000 class of 2023 represents companies that have driven rapid revenue growth while navigating inflationary pressure, the rising costs of capital, and seemingly intractable hiring challenges. Among this year's top 500 companies, the average median three-year revenue growth rate ticked up to an astonishing 2,238 percent. In all, this year's Inc. 5000 companies have added
1,187,266
jobs to the economy over the past three years.
Bhushan noted, "We take immense pride in serving more than half of the top research universities in the United States. What's even more exhilarating is that our journey at each of these esteemed institutions has only just begun. Our trajectory vividly demonstrates that we are emerging as the premier enterprise software platform for higher ed, orchestrating a diverse range of selection and approval procedures within universities. As we stride forward, our aspiration is to evolve into the quintessential workflow platform for higher education on a global scale. Presently, we are actively exploring innovative avenues for extending the utility of our software to industries, government entities, and smaller educational institutions."
"Running a business has only gotten harder since the end of the pandemic," says Inc. editor-in-chief Scott Omelianuk. "To make the Inc. 5000—with the fast growth that requires—is truly an accomplishment. Inc. is thrilled to honor the companies that are building our future."
About InfoReady™
InfoReady is a leading provider of no-code digital workflow automation platform used to manage forms, routing, and review processes for higher education institutions. Its software is simple to configure (no IT support needed), easy to use and provides insights to enhance outcomes. With nearly 100% of its clients renewing, InfoReady is currently used across over 200 campuses to manage competitions and opportunities for funding, awards, approvals and much more. A privately held corporation, InfoReady consistently deploys its capital to grow in the most efficient manner.